When Henry Rodgin took up optometry in the early 20th century, little did he know that he would become the first of three generations of optometrists in the Rodgin family.
His son, Dr. Jay I. Rodgin also had a long and illustrious career as an optometrist; in turn, he left this legacy to his two children, Drs. Susan Gail Rodgin and Henry Rodgin who followed the familial footsteps into optometry. Now, Dr. Henry Rodgin, 62, has his own practice, Optivision in Sunnyvale, California; while Dr. Susan Rodgin, 64, practices at the Boston Veterans Administration Medical Center in Massachusetts, USA.
"Our father Jay was a wonderful practitioner and such a role model. All along, I saw how fulfilling being an optometrist was for him," said Dr. Susan Rodgin over a ZOOM interview.
"Unlike [my brother] Henry, who knew what he wanted to do since college, when I was young, I didn't want to be an eye doctor. I thought it was boring looking into people's eyes all day long," laughed Dr. Susan Rodgin, adding that she later changed her mind.
Third Generation Rising
After graduating with a degree in sociology and religion, Dr. Susan Rodgin moved to Boston and worked in the dispensary at the Boston Eye Clinic. "I worked during the day and at night I went back to school," she said.
Dr. Susan Rodgin then obtained her Doctor in Optometry (O.D.) from the New England College of Optometry in Boston, and completed her residency at the Veterans Administration (V.A.) Medical Center in West Roxbury, focusing on primary eye care for geriatric patients and those with physical and mental illness. She also served at Medfield State Hospital and worked part-time as a consultant optometrist.
These days, she practices optometry in a multi-disciplinary setting; in addition to her clinical work, she also serves as a clinical instructor for residents and optometry students.
Dr. Susan Rodgin also holds a Doctorate of Acupuncture from the Pacific College of Oriental Medicine in 2019. "I'm interested in the holistic approach to health and medicine and I wanted to learn Eastern medicine. I think it is an advantage to be able to combine both Eastern and Western medicine in your practice," she said.
Today, she is a renowned acupuncturist at AcuHealing Center, which shares the same premise as her optometry practice. She splits her time 60/40 between her optometry and acupuncture practices.
"My dad was a good sport and let me practice acupuncture on him," recalled Dr. Susan Rodgin.
Meanwhile, Dr. Henry Rodgin has received many prestigious accolades in his 36 years of private practice in California. He was the recipient of "America's Top Optometrists" award from 2006 to 2014, as well as "The Best Of Sunnyvale Award" from the United States Commerce Association.
A graduate of the New York College of Optometry, he completed post-graduate work in therapeutics and in the treatment and management of eye disease at U.C. Berkeley. Today, Dr. Henry Rodgin practices functional optometry, a specialized practice that studies vision as it relates to the visual demands and functions of everyday tasks, which he says is very rewarding in terms of patient satisfaction.
With his business strategically located between Apple and Google in Silicon Valley, it makes sense that his current focus is on eye strain from computers and associated pathologies.
"Because of the pandemic, people are working from home with long hours online or in Zoom meetings; this has caused an increase of computer eye strain and other diseases," he said.
Both Drs. Susan and Henry Rodgin believe that the profession of eye care is changing rapidly. The industry is much more commercialized, but also more challenging.
"As optometrists, we offer complete eye care. But now, it's easier to get glasses or contact lenses online," said Dr. Susan Rodgin. "The profession itself is heading into a digital world. But with advanced technology, there are also more resources available to better treat diseases and prescribe glasses and contact lenses."
Although their careers do not cross paths, the two siblings are very close. "When dad was still around, the three of us would often consult and share with one another. He has always been very supportive of what we do," said Dr. Henry Rodgin.
Do they think their father would be proud of them? "He has already told us that he was," said Dr. Susan Rodgin with a smile.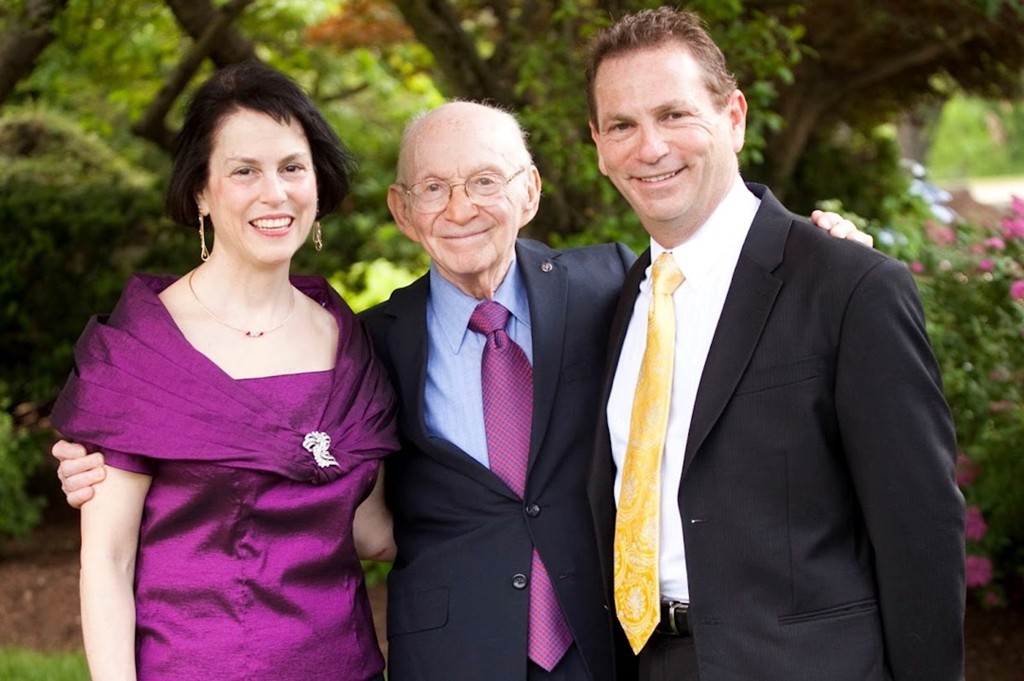 A Father's Generosity and Life Remembered
The siblings have many precious memories growing up in their family home in Bluefield, West Virginia, where their father built a renowned and estimable reputation for himself.
The youngest graduate to pass the New York State Optometry Boards, Dr. Jay Rodgin earned both his undergraduate and doctoral degrees from Columbia University School of Optometry. After completing his studies, and serving four years in the U.S. Army Air Corps, he returned to Bluefield to open his optometry practice.
He was a member of the International Association of Ophthalmologists and Optometrists and served several terms as president of the WV Optometric Association and the WV Board of Optometry. He was also an emeritus fellow of the American Academy of Optometry and was awarded the Lions Club International Sight Conservation Award twice.
He also authored a book titled Pathology and Pharmacology of the Eye in 1983, and wrote two books reflecting on his life in his 80s and 90s.
Dr. Jay Rodgin was influenced by his father, Dr. Henry Rodgin. Drs. Susan and Henry Rodgin did not meet their grandfather, but they have heard much about him from their father.
The late Dr. Henry Rodgin was only 18-years-old when he opened a jewelry store — called The Henry Rodgin Company — in 1902. Telling a story about his father in one of his books, Dr. Jay Rodgin wrote: "One day, a man came in [to the jewelry store] with an old American Optical trial lens set and trial frame. The man wanted an engagement ring and said he would leave the lenses and frame as security until he could return with the money to pay for the ring. The man never returned.
"My father decided to use the lenses. He then took a correspondence course in optometry and became licensed to practice in 1909. During the Great Depression, optometry became Henry's main source of income.
"During the pre-World War I period, the role of optometry practice was very different. It was all to do with prescribing and fitting glasses," said Dr. Susan Rodgin. "By the time our father went to Columbia, the discipline included eye health. And today, optometry is an even wider field and is very much health-oriented."
Dr. Susan Rodgin also remembers her father as a very generous person.
"When people came into his shop and could not afford glasses, he prescribed glasses for them and asked them to pay him whatever and whenever they could," she said.
Dr. Jay Rodgin's interpersonal skills were a cherished part of his life — he loved talking with people and nourishing relationships. He was also very dedicated to whatever he took up: He was very committed to his Synagogue and was highly regarded in service associations like the Rotary Club and Lions Club.
"He had a way with people and people just loved him. In fact, it seems everybody in town knew him," said Dr. Susan Rodgin.
A most dedicated optometrist, Dr. Jay Rodgin didn't retire until he was 92, which gave him more time to spend with family and friends, reflect and write, and frequent restaurants around town.
Dr. Jay Rodgin passed away in 2016 at the age of 96, surrounded by his children and grandchildren.
And today, the family's legacy continues. Although none of Drs. Susan and Henry Rodgin's children took up optometry, some of them are working in healthcare.
One of Dr. Susan Rodgin's daughters is a neurologist, while another works for a company that makes robotic healthcare products. Her son is a business investor in Vietnam. Meanwhile, Dr. Henry's 30-year-old daughter is a pediatric psychologist.