Myopia needs little introduction: It's the most common ophthalmic condition in the world, affecting about 22.9% of the population worldwide. Its prevalence is only on the rise, and that number is expected to edge closer to half of the world's population by 2050. It is especially rife in East Asia, where among middle school-age children it is estimated that as many as 80% have myopia in some form.
Luckily, even though the condition is undeniably becoming more widespread, the field of eye care continues to make progress in addressing the problem. While years ago the only solution was the constant refitting of an ever-strengthening prescription of glasses, new technologies are helping us to get better and better at discovering, diagnosing and treating this visual impairment.
With cases and treatment options both prolific, it can be difficult to stay abreast of the newest approaches in this ever-evolving field. To get a sense of where the current state of clinical treatments for myopia are, and to discover some patient-centered strategies for managing the condition, Media MICE CEO Matt Young recently sat down for a teleconference with two leaders in the field: Ophthalmologist Dr. Cheryl Lee and Orthokeratologist Dr. Oliver Woo.
These two doctors bring a wealth of knowledge and experience in the area of myopia management, and provide an especially complementary pair of perspectives through the different approaches that their distinct fields of expertise allow. It's not every day that the same questions are posed to experts in ophthalmology and orthokeratology in the same session, and it resulted in a fruitful and insightful discussion.
Centering Treatment Around the Child
So, how should an eye care professional go about introducing a new specialty like myopia management to their practice?
Dr. Lee said that the first thing an ophthalmologist venturing into this field needs — in addition to a real interest in working with children — is a focus on prevention, rather than treatment of existing conditions. This, she points out, is something quite new and different in eye care. While some medical specialties such as oncology have been successful in shifting their clinical focus toward prevention in recent years, much of the talk among ophthalmologists remains narrowly anchored to surgical procedures such as glaucoma and cataract surgery. And prevention is critical in myopia: There is much that can be done to slow or even stop the progression of myopia once it is diagnosed, but little to reverse it once the damage is done.
What is needed in this area is a different mindset. This, Dr. Lee emphasized, involves working closely with optometrists as the "first port-of-call" for young patients and their parents. It is at this point of first contact that patients' eyes can be examined for visual issues, while parents can be educated on the likelihood, dangers and most importantly — the preventability of myopia.
Dr. Woo picked up on Dr. Lee's mention of children and said that to enter into this field, an optometrist has to love working with kids. Pediatric optometry involves a number of unique challenges for a practitioner, and as myopia presents overwhelmingly in children, it is essential for an eye care professional in this field to be able to relate to children.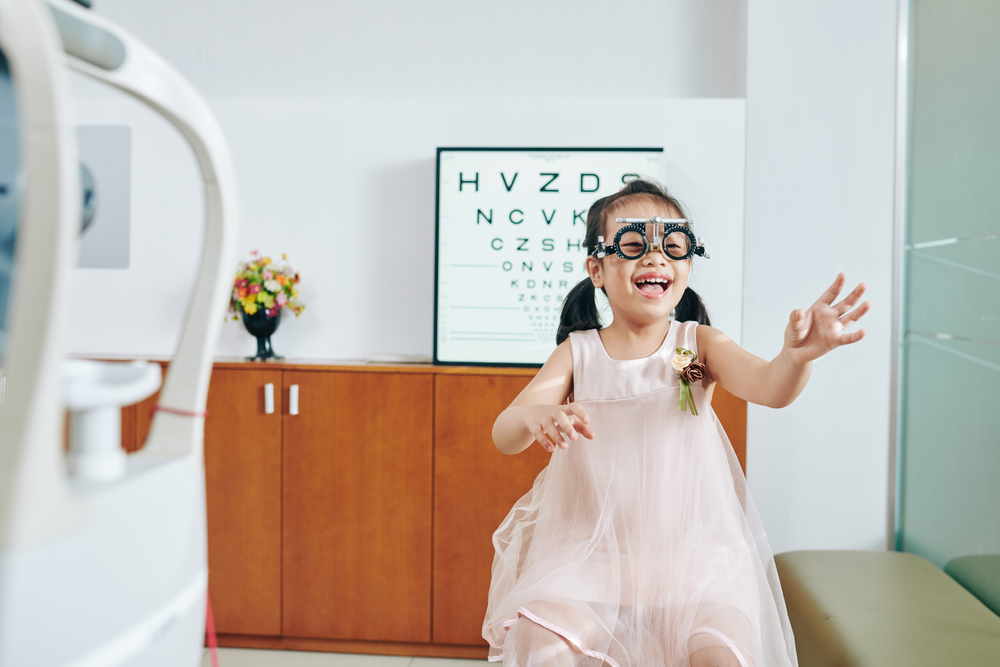 "Number one," said Dr. Woo, "we have to make sure the kids trust us. We have to be kid-friendly, sometimes even be a little bit of a clown!" Dr. Woo said that his office always has a big jar of 1,000 Chupa Chups, and before beginning an axial length measurement he gives his young patients a lollipop to help put them at ease and to build rapport.
At that point, Dr. Woo said he talks to the kids about the tests he will be conducting and reassures them that nothing they're going to be doing will be painful. This critical step is quick and simple — and one that's easy to forget — but it makes a big difference in building trust in a pediatric setting, he noted.
Dr. Lee agreed and added that in her myopia clinic in Singapore there is a photo of an older child holding the hand of a younger, first-time patient who was a bit uneasy going into the first diagnostic procedure. She noted that this peer support can be sometimes even more effective than a doctor alone at alleviating a child's fear, and she has even introduced her own son to patients in the clinic to help them to be less afraid.
Though many clinicians primarily address the parents when discussing what are quite complex concepts, both doctors emphasized the importance of explaining what myopia is to young patients in basic terms. Not only does this help put the child and parent at ease, but it also builds a strong foundation of understanding that contributes to better myopia management.
Counseling Caregivers and Managing Expectations
As education is such a vital part of managing myopia, how do they make their treatment strategies easier to understand for patients and caregivers?
Dr. Woo said that it can be very difficult for parents to understand the concept of axial length from the get-go. When they hear that a higher prescription correlates to a longer eyeball, they don't quite understand how this works. So to illustrate, Dr. Woo, said that simplified descriptions and visual aids can be as helpful for parents as they can for the child patients, and pulled out a balloon.
As he blew up the balloon, Dr. Lee assisted by explaining the progression of myopia with an ever-tapering balloon, starting from a relative sphere when the balloon was barely inflated, and getting longer as the balloon got bigger. As the patient's eyes grow, the deformation of the eyeball becomes more pronounced in much the same way the balloon does. For a grand finale, Dr. Lee popped the balloon, which exploded in confetti.
This, Dr. Woo noted while dusting off the confetti, is a really good analogy for explaining axial growth to parents. It also helps to explain that he, the optometrist, does not physically manage the shape and growth of the eyeball, but for such things he refers parents to an ophthalmologist like Dr. Lee.
Dr. Lee said that she also employs visual aids and always uses a model of an eye when explaining myopia to children and caregivers. She compared the growth of the eye to the height of a child and explained that her goal as an ophthalmologist is to control the growth. When parents ask if there are treatments to reverse the myopia, she replies that she can no more reverse it than she can reduce the height of a child. But there are things that can be done to prevent that growth in axial length from getting any more extreme.
For myopia is a disease, Dr. Lee continued, and a disease is sight-threatening. When counseling patients and caregivers, doctors must not allow them to go away thinking that the aim of treatment is to make everyone perfectly sighted. It is very important to manage expectations, and let parents know that their goal is to keep myopia as well-controlled as possible, not turn back the clock.
This, Dr. Woo added, is why routine eye exams are so important: they are the first step in prevention. An initial diagnosis of myopia helps parents to encourage outdoor exposure and ensure the necessary prescriptions are in place. Communication is vital in stemming the growth of the eye's axial length, in that parents need to know that myopia is not just a refractive issue to be treated with glasses, but rather one that can be controlled with advanced treatment options.
The Myopia Master®: A Cutting Edge Diagnostic Tool for Myopia Screening
Turning to the subject of diagnostics, the doctors then discussed the tools they use in diagnosing myopia in their young patients. The doctors made mention of the importance of making the clinic space kid-friendly, free from sharp corners and edges, and staffed by professionals who like working with children. Dr. Woo then turned to the specifics of screening, and noted that it is necessary to perform evaluations of the patient's refraction, axial length and keratometry.
There is one device that is geared toward just this purpose: The Myopia Master® (OCULUS Optikgeräte GmbH, Wetzlar, Germany) unifies these three diagnostic features into one stand-alone device.
Dr. Woo indicated that he now uses the Myopia Master® with almost every one of his patients. He added that, in addition to providing simplified diagnostics for his young patients' eyes, he often uses the device to measure their parents' eyes as well. In providing a point of reference for their child's visual development, this helps to improve understanding among caregivers and their role in management.
Dr. Lee agreed, saying that the optometrists in her clinic make abundant use of the Myopia Master® and that the streamlining of the screening process makes their jobs much easier. While this sounds superficial, she noted that its effects are really very deep, and allow the pathway to treatment to become much clearer.
"By the time they come to me," Dr. Lee said, "[patients and parents] already know there's a problem. The Myopia Master® supports what the optometrist says in numbers." By using the Myopia Master®, eye care professionals are able to give very clear and understandable information to caregivers that helps them to understand what is happening with a patient's eyes, and why treatments are so important.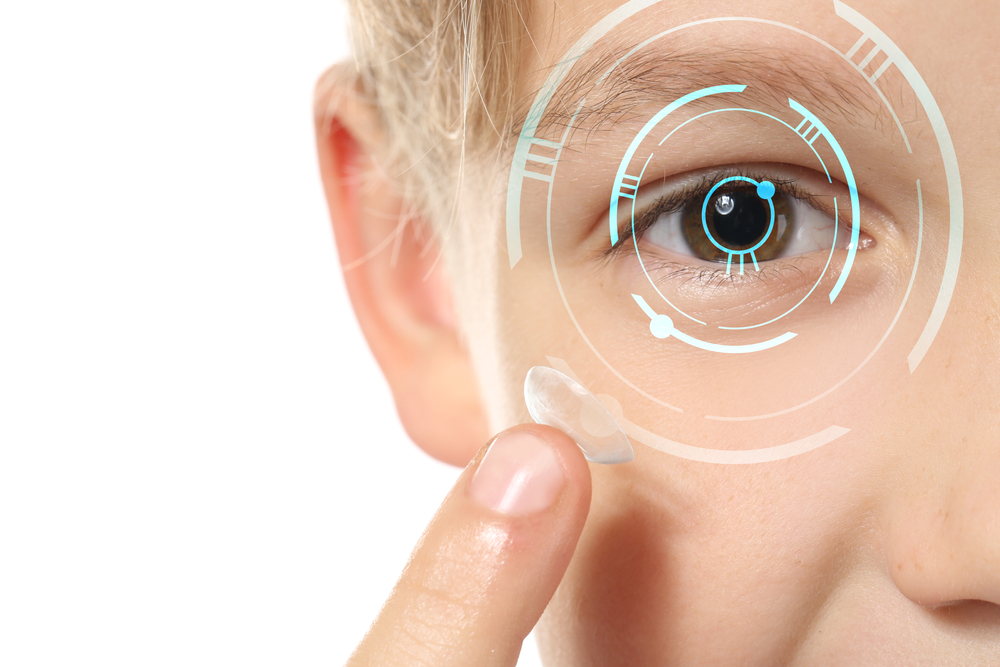 MiSight® Lenses Bring New Focus to Myopia Treatment
Moving from diagnosis to management, the doctors then shared what factors they felt should go into choosing a path of management.
Dr. Woo explained that this varies quite a bit, and needs to be tailored to the patient. The age of the patient and the extent of their myopia make a big difference in evaluating what treatments are appropriate in their particular case. He noted that kids have very different lifestyles at different ages, and that treatment options, whether they be orthokeratology lenses worn at night, glasses or other specialized lens treatments, depend largely upon the patient's lifestyle.
There is a new treatment option which has been on the market for only about two years: MiSight® 1 day contact lenses developed by CooperVision (San Ramon, California, USA). MiSight® is the only FDA-approved product for myopia control, and has the longest clinical trial for myopia management.
Dr. Woo indicated that he has been prescribing MiSight® for quite some time. "In my experience, MiSight® is a product which, if you use it, works! There are really good correlations between using the lenses and both diopter changes and axial length changes."
Dr. Lee's follow-up was just as enthusiastic. "With MiSight® we're talking about a 59% control of the myopia," she said, "compared with regular contacts or eyeglasses. It's very well correlated with preventing that growth. It's a 52% reduction in the extension of the axial length. What we're saying is that the correlation with the progression of myopia and the correlation with axial length is very, very good. It's important to focus on both, and MiSight® does this very well."
While both doctors were very positive in their reactions to MiSight®, they were both quick to point out that there are challenges with every corrective medium. In particular, Dr. Woo said that young patients — especially very young ones — can be quite uncomfortable with wearing and putting in contact lenses. He said that he regularly works with patients on this, encouraging them to lubricate their fingers and touch their eyes, realizing that it doesn't hurt, and there's nothing to be scared of.
Dr. Woo noted that MiSight® lenses are far safer than eyeglasses or ortho-k lenses, and their disposability lends a high level of convenience as well. Dr. Lee went one step further, saying that if any child wanted to wear contact lenses, it would make no sense at all to choose any lens but the MiSight®, as its ability to inhibit myopia progression is of such great value, with no apparent drawbacks at all.
Putting The Pieces of a Myopia Clinic Together
It's clear there are many aspects that go into a specialized treatment center for myopia and each part is absolutely vital. From helping patients feel at ease, to assisting parents in understanding their role in management — through the latest diagnostic tools and the most advanced treatment options — each step on the path toward slowing myopia's progression is critical.
While this article covers only highlights of the webinar, there's a lot more great advice from Dr. Woo and Dr. Lee, along with a video tour of Dr. Lee's clinic in Singapore, in the full interview. Watch the full video here.
Editor's Note: The webinar – Empowering Your Practice Through Myopia Management – was held on April 27, 2002. Reporting for this story took place during the event.